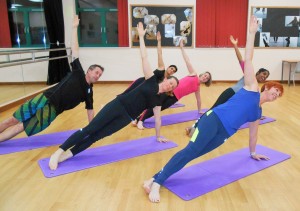 Pilates is an exercise system that focuses on stretching and strengthening the whole body to improve balance, muscle-strength, flexibility and posture. It was created by German-born Joseph Pilates in the early 1900s and incorporates elements of yoga, martial arts and Western forms of exercise.
"In 10 sessions, you feel better, 20 sessions you look better, 30 sessions you have a completely new body." Joseph Pilates.
Mixed Ability Pilates is suitable for all levels however each exercise is demonstrated to a more difficult level for those who wish to take it/try it.  The Key Principles of Pilates are constantly referred to and promoted to improve the participant's practice and develop strength, flexibility and mobility.   The exercises chosen are changed each term, and apparatus is used from time to time to keep the routine fresh.  The instructor works closely with each individual to ensure that they are always progressing and improving to gain the most from their sessions.
We usually have Mixed Ability classes Monday, Tuesday, Thursday and Friday mornings and Monday evenings.  Please check out our classes page for full details and venue info.  At the moment due to the Corona Virus Pandemic classes are online via Zoom and our Mixed Ability class is at 7.30pm Monday evening and Monday, Tuesday, Thursday and Friday mornings at 9.15am.
Classes can be attended via a Monthly Membership subscription of £25 a month which gives access to 1 live class a week, whether on Zoom or Face to Face when permitted term time only and access to the recordings of the sessions via their membership account.  Classes  can also be purchased as a 6 week block for £48 to be used over a 9 week period allowing access to 1 live class a week, whether on Zoom or Face to Face when permitted term time only or as a single class at £9 per class payable in advance online (subject to availability).
We also have an Unlimited Monthly Membership for £37.50 a month where members can have full access to our timetable as much as they want along with prerecorded specials and a range of recordings of many different classes to include Yoga, Pilates and Cardio workouts.
UPDATE: due to the Corona Virus Pandemic, many of our classes are currently being delivered Online – see our BeBody Online page for more details.  When permitted we also have a limited timetable of Face to Face classes where venues are large and numbers are limited. Please see our current timetable for details.