Antenatal Pilates is one of the best exercises you can do whilst pregnant – fact! There are so many benefits exercising whilst pregnant –  improved circulation, enhanced muscular balance, reduced swelling, eased gastrointestinal discomfort, reduced leg cramps,  strengthened abdominal muscles and eased postpartum recovery.  Practicing Pilates on a regular basis will help reduce pain from SPD and can make a dramatic difference to Sciatica.  The better condition your core muscles are in the more quickly your pre-pregnancy shape will return, with our Mums and Babies Pilates class of course!  Learning how to relax your pelvic floor also plays an important role within the class to help you have a more relaxed, comfortable experience when your little on actually makes an appearance.
It is a great opportunity to meet and connect with other Mums-to-be in the area, to be able to discuss the changes happening to your body and to share your excitement about the impending arrival of your little one.
The exercises are specifically designed for pregnant women and are chosen to help alleviate any postural problems that can arise as a result of pregnancy like lower back pain, hip pain etc.  We use small equipment like bands and balls to ensure an effective workout for all levels and  we use pillows etc for support.  The mindfulness for pregnancy segment at the end of the class is always a big hit with everyone.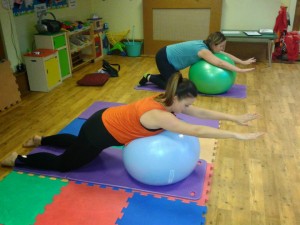 Our current Antenatal class is in Harlow, please get in touch for venue details and it is on a Wednesday evening, 7 till 8pm.  The classes can be purchased as a block of 6 weeks for £45 or can be purchased on a pay as you go basis for £8.50 per class but this is subject to availability.  We need a minimum of 10 participants to holdthis class so please get in touch to make sure the class is currently running.  Antenatal clients are welcome within any of our Beginners Pilates classes and the exercises can be adapted as necessary to accommodate the pregnancy.
"I myself continued to practice Pilates right up until the birth of my daughter Caitlin in 2009.  The midwife was convinced that my quick recovery from my Cesarean Section was a direct result of my Pilates and core strength.  I also knew that practising Pilates all the way through my pregnancy allowed me to regain my post partum shape much more quickly than had I not", Belinda Nuttall, creator of BeBody Health and Fitness
Your first class is free as a trial, please send us an email to book in, a 6 week block costs £45, and classes can be used when suits you.
Pay as you go is £8.50 per class paid in advance online and is subject to availability.